Celery Celtic Sea Salt® Deviled Eggs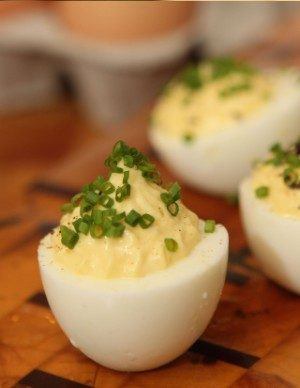 INGREDIENTS ~
6 eggs
2 teaspoons lemon juice
6 tablespoons organic mayonnaise
1 teaspoon Dijon Mustard
a dash of favorite hot sauce
1/8 teaspoon Organic Celery Seasoned Celtic Sea Salt® Blend
2 tablespoons extra virgin olive oil
Fresh chives for garnish
---
STEPS ~
Bring pot of water to rapid boil. Turn off. Add the 6 eggs. Wait 60 seconds and turn heat back on. Simmer for 9 more minutes (10 minutes total). Shock in ice water.
Peel eggs. Score top and bottom so they will sit upright. Cut the eggs in half and remove yolks into a food processor.
In the food processor combine yolks, lemon juice, Dijon Mustard, hot sauce, salt.
Blend until smooth. Spoon into piping bag.
Pipe into egg whites. Top with chives and Organic Celery Seasoned Celtic Sea Salt® Blend.

~ Makes 16 servings.


---
Recipe created by Lisa Keys from Pennsylvania