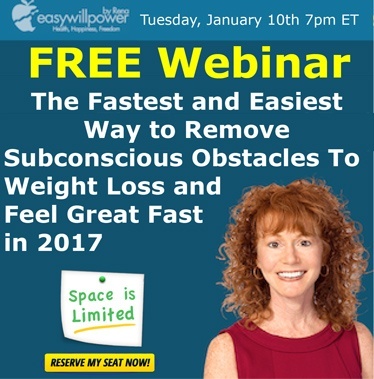 As the New Year approaches, many of us are making lists of ways we can improve our lives and better ourselves.
If you're looking to transform your body, calm your mind, or push yourself outside your comfort zone, you may benefit from participating in this free webinar.
Transform Your Body
On Tuesday, January 10th, at 7:00pm EST, Rena Greenberg is running a free webinar, entitled The Fastest and Easiest Way to Remove Subconscious Obstacles to Weight Loss and Feel Great Fast in 2017.
In this webinar you'll learn:
How to stop the endless cycle of dieting by tapping into the wisdom in your subconscious
How to lose weight without feeling deprived, by changing the way you subconsciously think about food
Quick and easy ways to change your behavior and eliminate overeating, binging, snacking, and emotional eating
How you can lose weight and get healthy with powerful self-hypnosis technology
About Rena Greenberg:
Since 1990 Hay House author Rena Greenberg has helped over 200,000 people, all over the world, lose weight and achieve optimal health. Her groundbreaking wellness seminar for weight control has been reviewed and sponsored in over 75 hospitals and in 100+ major corporations such as Walt Disney World and Home Depot.
Her clients often say they "owe their lives to her," because she finds the fastest and easiest ways to help people release subconscious blocks to losing weight and find lasting health, happiness, and freedom.
Sign up for Rena's free weight loss webinar here.