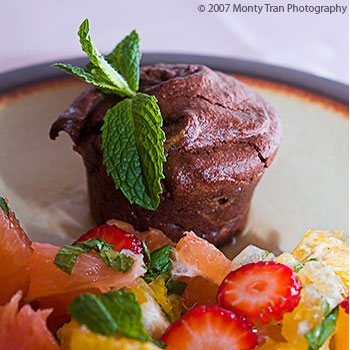 INGREDIENTS ~
1 stick butter
6 large eggs
¼ cup coconut flour
12 oz bittersweet chocolate
8 ramekins (5-6 oz)
---
STEPS ~
Put oven rack in middle position and preheat oven to 350 degrees F.
Generously butter ramekins and place in a shallow baking pan, spacing them evenly.
In a food processor add almond butter and sugar and blend until a grainy texture, next add butter and pulse the mixture until smooth.
Then add eggs, coconut flour and Celtic Sea Salt® and pulse until mixed thoroughly.
Melt chocolate and sugar in a metal bowl set of a saucepan of barely simmering water or in top of a double boiler, stirring until smooth.
Add melted chocolate to almond butter in processor and pulse, scraping down side of bowl occasionally until batter is combined.
Divide batter among ramekins and bake 40-45 minutes until puffed and set (insert a wooden pick, looking for moist crumbs adhering when removed).
Cool ramekins on a rack for 15 minutes.
Run a small sharp knife around edge of ramekins to loosen cakes if necessary, then turn cakes out onto a rack, right side up, and cool completely.
Cakes may fall slightly or crack.

~ Makes 8 small cakes.


---
Recipe created by Carla Delangre.