Candied Bacon Spinach Salad with Maple Sea Salt Dressing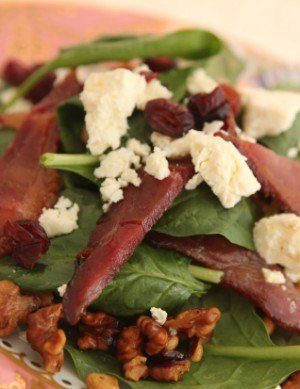 INGREDIENTS ~
3 cups baby spinach
3/4 cup feta crumbles
3/4 cup dried cranberries
1 cup raw walnuts
8 slices thick cut bacon
1/2 cup plus 1 tablespoon walnut oil
1/8 cup balsamic vinegar
1 tablespoon real maple syrup
1 teaspoon Organic Smoked Applewood Seasoned Celtic Sea Salt® Blend
1 teaspoon Dijon mustard
1/8 teaspoon cayenne pepper
---
STEPS ~
Preheat oven to 350°F.
An optional step is to coat the bacon with syrup overnight in the fridge to allow to marinate.
Wash, dry and remove the stems from the baby spinach. Place in a bowl then set to the side. Roughly chop the cup of walnuts. Heat one tablespoon of walnut oil in a pan over medium heat. Place walnuts in the pan with 1/2 teaspoon of the salt blend and turn the heat to a medium low. Sauté for 5-7 minutes or until a nice golden brown, pour into a cup and set aside.
Next cover a baking pan with thick foil and place a baking rack on top. Pour the 1/4 cup of maple sugar onto a flat dish. Take each slice of bacon and coat both sides with the maple sugar. Put the bacon on the rack and place the baking pan into the lower third of the oven (use non-stick silicone sheet if you have one). Bake for 15-20 minutes being sure to keep an eye on it as it's cooking because it can go from underdone to overdone in no time. When it's finished cooking remove from the oven and let cool for five minutes. Then chop into small pieces.
While bacon is cooking begin the maple sea salt salad dressing. Mix together 1/2 cup walnut oil, balsamic vinegar, maple syrup, Dijon mustard, cayenne pepper and remaining of salt blend. Whisk until thoroughly combined.
Go back to the bowl of spinach and toss in the toasted walnuts, goat cheese, cranberries and dressing. Mix together well and top with candied maple bacon.
Serve immediately and enjoy immensely!

~ Makes 2 servings.


---
Recipe created by Angela Moralevitz from Florida.