Bouquet Herb Crusted Lamb Leg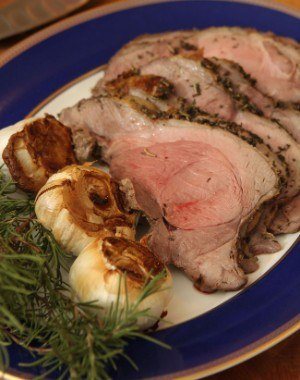 INGREDIENTS ~
1 5.5-6 pound bone-in leg of lamb
1 small lemon, zested and juiced, separated and set aside
1 pound Light Grey Celtic Sea Salt®
2 tablespoons olive oil
4 cloves garlic, minced or crushed
1 teaspoon coarse ground black pepper
3 tablespoons fresh rosemary leaves, chopped
2 egg whites
1 teaspoon dried lavender, crushed
Bouquet™ Herbes De Provence Celtic Sea Salt®
---
STEPS ~
Remove the lamb from the fridge about 2 hours before cooking to allow it to come to room temperature.
Preheat oven to 375°F.
First, make the wet rub. In a small bowl, combine the lemon juice, 3 tablespoons of salt, olive oil, garlic, pepper and rosemary. Mix to form a wet paste. Set aside. For optimal flavor zest the lemon and mix with the Light Grey Celtic Sea Salt® and allow to rest for 30 minutes before using it.
Next, brown the lamb. In a large, heavy skillet, heat a small amount of coconut oil over high heat. Brown the lamb in the hot oil for two minutes on each side, or until evenly colored. Remove the lamb from the heat and let it rest for 10-15 minutes.
While the lamb is resting, make the salt crust. In a large mixing bowl, lightly whip the egg whites until they double in size. Add Bouquet™ Herbes De Provence Celtic Sea Salt® to the egg whites. Fold the remaining salt into the egg white mixture.
Rub the wet garlic rosemary rub all over the lamb leg. If there is extra, add it to the egg white and salt mixture and combine well. On a flat baking tray or large baking dish, spread a thin layer of the salt crust mixture in the rough shape of the leg of lamb. Place the leg of lamb on top of the salt mixture. Using a spatula, coat the lamb leg with the salt crust mixture, ensuring that the leg is completely covered (no holes).
Place the leg of lamb in the oven and roast at 375°F for 50 minutes, or until the meat thermometer reads (without touching the bone) 100F and allow it to rest in the pan until it reached 125F, or medium rare.
Remove the leg of lamb from the oven and let it rest for 30 minutes (the meat will continue to cook and the juices will permeate in the residual heat.
To serve, crack and remove salt crust. Slice and serve.

~ Makes 6 servings.


---
Recipe created by Laureen Pittman from California.