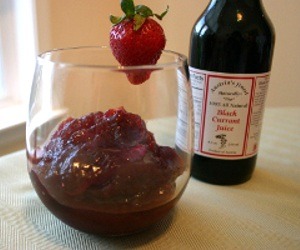 INGREDIENTS ~
2 cups Organic Apple juice
1 cup Organic Black Currant Juice
3 ½ Tablespoons Agar Agar flakes
1 cup fresh organic strawberries or cherries (pitted)
**For added health benefits add 2 scoops of Celtic Sea Salt® Electrolyte Powder
---
STEPS ~
In a medium sauce pan, bring the apple juice and black currant juice to a strong simmer.
Stir in the Agar Agar flakes and keep stirring until they are fully dissolved (about 5-10 minutes).
Allow to cool for 5 minutes then stir in fresh fruit.
Pour in a nice glass serving dish and cover with foil or plastic wrap.
Place in refrigerator overnight or for at least 4 hours.
Serve chilled.

~ Makes 4 servings.


---
Recipe created by Carla Delangre