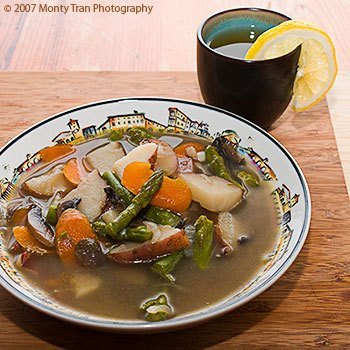 INGREDIENTS ~
4 cloves of garlic, minced
½ yellow onion, chopped medium chunks
3 - 4 cups mushroom stock
4 - 5 cups water
2 - 3 cups button mushrooms remove stems and cut in half or quarters
1 - 2 carrots, thinly sliced
3 red skinned potatoes leave skin on and cut into chunks no more than ¼ inch thick
½ bunch asparagus break off ends and break rest into bite size chunks
1 tbsp butter or ghee
1 tsp toasted sesame oil
Add Celtic Sea Salt® to taste through out cooking steps
fresh ground black pepper to taste
½ cup red wine
---
STEPS ~
In a large soup pan turn on med to high heat.
Add butter and ½ cup of water.
Once this is simmering, add garlic, onion, and potatoes and allow to soften and brown a little.
Cover the pot and add a little more water if it gets too dry too fast (you don't want it to burn).
Add the wine slowly so the potatoes absorb the wine.
Add rest of the ingredients and use Celtic Sea Salt® Brand salt and pepper to taste.
Allow to simmer with lid on for 20-25 minutes, until veggies are soft.

Serve immediately to enjoy the fresh bright colors of the dish.

~ Makes about 5-6 servings.



This dish is extremely tasty when accompanied with a lemon ginger Echinacea tea with fresh squeezed lemon juice.


---
Recipe created by Carla Delangre.